HYO SONG
Hindu ilainyar iyakkatthin
In manikaal varugaveh
Inba neri ozhughi nindru
Ilavalghal velgaveh
Thiramai konda theemaiyatra
Sevai seythu yhavarum
Therntha kalvi nyanam eithi
Vazhvam intha nattileh
Varugaveh ... valargaveh ... vazhgaveh
Ezhmai endra pagaimai ondrum
Engalukku illaiyeh
Endra nilai nhatti vaikka
Etravaigal seiguvom
Vazhi samaiyam uyarvu eithi
Manamagizhnthu kooodiyeh
Malaysiar orunigar
Samanamhaga vazhvameh
Varugaveh ... valargaveh ... vazhgaveh
Valarchithanai azhikkum entha
Talarchiyaiyaum kolutthuvom
Vaiya vazhvu tannil entha
Vagaiyilum namakkulleh
Illar endra nilaima maari
Ullahrodu koodiyeh
Sarinigar samanamaga
Vazhvam enggal nattileh
Varugaveh ... valargaveh ... vazhgaveh
THE PRESIDENT OF RASAH JAYA HINDU YOUTH ORGANISATION

Rasah Hindu Youth Organisation (hyo rasah) was actively involved in various social and educational activities to all youths especially Indian youths with the aim of ensuring the Indian youths are not left behind in the rapid growth of various technology in this current century.Also we have to work smart and with full commitment. Its the only way to safeguard our tradition, our culture,our religion and our tamil language

-

INTHUNAN NAGENTHIRAN

INTRODUCTION
The Rasah Hindu Youth Organisation, an affiliate member of the Malaysian Hindu Youth Council is fully committed in Youth,religion,social-economic and community leadership devolopment programmes, has been a specific focus on organising community-based programmes for youth,women and student.
OUR VISION
To strengthen youth towards the realization of a caring society, quality generation and progressive Malaysian nation
OUR MISSION
HYO Rasah is commited to be the lead agency in A Nation of character built by youth which are resilient, ethical, healthy, knowledgeable and harmonious
Matlamat HYO Rasah
Mengeratkan persahabatan dan kerjasama diantara para belia dan beliawanis serta masyarakat,

Mengeratkan lagi persefahaman diantara belia dan beliawanis,

Mempertingkatkan lagi aspek-aspek fizikal,sosial dan kebudayaan dikalangan belia-belia,

Menggalakan dan mempertinggikan lagi pengetahuan agama hindu serta falsafanya,

Memberi pertolongan kepada orang yang tidak pengupayaan dengan apa cara yang baik,
HYO LOGO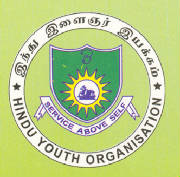 SERVICE ABOVE SELF

SERVICE ABOVE SELF
OBJECTIVE
General Objective
Operational Objective
*To facilitate policy makers to consider youth development factors in the formulation of national development policies and strategies

*To assist planners and programme managers to integrate Youth development into sectoral development programme planning

*To assist implementing agencies involved in youth development and hindu religion programmes to conduct training activities on parenting skills based on standardized and systematic modules

*To increase the awareness,knowledge,attitude and practice of positive youth values and norms among community leaders

*To improve the reproductive health status of young generation.
TUJUAN HYO RASAH
* Berusaha menegakkan dan mengukuhkan prinsip sukarela dan demokratik dalam pergerakan belia.
* Menyebarkan penerangan dan maklumat tentang isu-isu dan kegiatan HYO RASAH demi pembangunan belia,bangsa dan negara.
* Mengemukakan pendapat dan perakuan kepada kerajaan,badan-badan berkanun atau kepada badan-badan yang lain tentang perkara-perkara pergerakan belia.
* Membantu memajukan dan menggalakan kegiatan-kegiatan belia serta perkembangan kerja-kerja oleh HYO RASAH menerusi usaha bersama.
* Menggalakan sikap hormat menghormati antara bangsa, persefahaman antara kaum, kerjasama dan kesejahteraan menerusi kegiatan-kegiatan belia.
* Menganjurkan dan menggalakan minat untuk kesuburan rohani,jasmani,ekonomi,pendidikan,keagamaan hindu,budaya,sosial,sukan dan aktiviti-aktiviti yang progresif di kalangan badan-badan yang mempunyai minat dalam perkara ini.